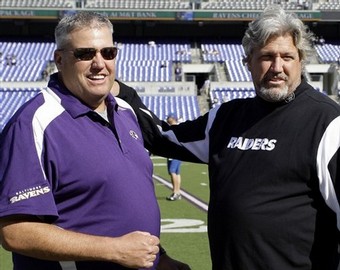 Did anyone else know that Rex Ryan, the outspoken, self-effacing, boisterous, former defensive-coordinator now coach of the Jets has an outspoken, self-effacing, boisterous, twin brother, Rob Ryan, who is the defensive coordinator for Cleveland?
Apparently they both played defensive end for Southwestern Oklahoma State University, as well.
And, other than the facial hair, and relative tan levels, the only major physical difference comes from Rex Ryan's recent weight loss surgery, which Rob parodied in Jets/Browns pre-game press conference.
You've got to wonder how the Jets plan to score any points when the opposing defense is lead by a man who has a creepy telepathic connection to their coach. Should be an interesting game this morning.