Here is what could ostensibly represent my blood pressure chart over a four hour epic World Series game last night. Though, as a Yankee fan, I would probably invert it.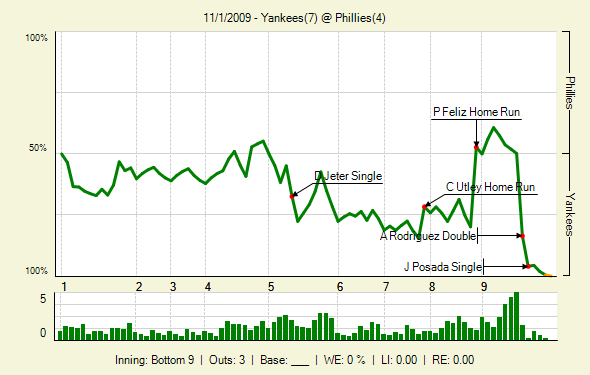 Moving "Live-Win" probability graph via fangraphs.
Truth be told, I was doing my Jimmy Fallon impression for much of last evening, attending a reading of a theatre piece hosted by an up and coming playwright. Having DVR'd the entire 4 hour affair, I was determined to receive no updates and intel of the ongoing festivities…
So go ahead and condense that entire graph to 45 minutes of furiously fast-forwarding, pausing, and screaming into my television. In a flash, Yankee Manchild Ace CC Sabathia was completely neutralized by Everyman Joe Blanton and a lackluster Yankee bullpen performance.
Fortunately for the Yanks, the Phillies' closer, Brad Lidge, had had his soul stolen back in 2005 by a young Witch Doctor/First Baseman named Albert Pujols…
Here's another vantage of this event (Special Thanks to the MLB's Stalinist policy of disallowing remixes of game footage):
And so, in the 9th inning, the Yankee big money hitters made mince meat of a Mojo-less Lidge, taking a firm grasp of the 2009 World Series, and possibly forever changing the legacy of Alex Rodriguez.
Think again, formerly disgruntled friend.
4 Responses to "Yanks/Phils Game 4 Recap"