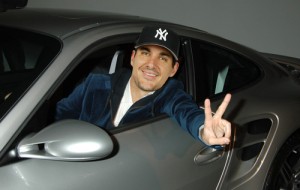 Sunday night, Yankee fans (including Yours Truly) watched for several hours as the Bombers attempted to exorcise the memory of one of their most infamous free agent acquisitions – Human Pin Cushion, Carl Pavano.
While any modern day baseball fan faces the prospect of losing favorite players to free agency, thoughts of Carl arouse a special level of ire for the Yankee fan.
Here is a pitcher who took $40 million dollars (guaranteed money for four seasons) and ostensibly made up various injuries to avoid actually having to play. Rather than rehash the whole history, I'll leave you this vintage Mep video to explain his history (the creation of which shows how much hatred I carried for this man):
And so, when his contract finally expired last year, we Yankee fans thought we'd finally seen the end of Mr. Pavano. We were wrong. Pavano (now a Cleveland Indian) faced the Yankees in late May, and showed the prowess that had convinced the Yankee front office to offer him a small yacht stacked with $100 bills, back in 2004.
In early August, the sputtering Indians dealt Pavano to the Minnesota Twins for a player to be named later, and realizing that free agency was again approaching, Pavano put in some actual effort. He won three of his last four decisions and helped the streaking Twins steal the AL Central title from the Detroit Tigers.
Many Yankee fans relished the thought of facing him last night, in the potential clinching game of the American League Division Series, as a final revenge upon Listless Carl and his cavalcade of excuses.
However, with a fake sense of indignation of how he was treated by the Yankee Universe, and a national stage to showcase his soon to be free agent arm, Carl Pavano baffled the Yankees for nearly seven full innings. He struck out nine (a season high), walked none, and pumped his fist emphatically as he matched veteran Andy Pettitte inning by inning.
While clutch fireworks by newly anointed "True Yankee" Alex Rodriguez and gruff backstop Jorge Posada ultimately handed Pavano the loss, I can't escape the feeling that Pavano managed to beat the system yet again.
A less than sullen Pavano was asked about his performance after the game. His response:
"I think definitely I've shown I can go out there every fifth day… Yeah, we came up short. But the whole road coming here was so enjoyable"
Somehow Listless Carl managed to pitch just well enough to impress potential free agent suitors in 2010, and just poorly enough to end the Twins season. It just seems a little bit too convenient. I get the feeling that some poor, deluded, general manager will pony up big bucks for Listless Carl come April. And he'll do it just in time for Carl to pull his Hangnail routine. Buyer beware.
One Response to "Ghosts of Free Agency Past"